A Reputable and Reliable RV Skirting Provider
We are a small business that has been custom building RV skirting for over a decade. We have perfected our design to meet the needs of our customers.
Most of our customer move around a lot for work purposes and need a skirting that is just as mobile as they are.
Our custom built skirting's are measured and fitted to each camper so that it will fit perfectly.

We use a top quality marine grade vinyl coated polyester fabric that is lightweight, will not crack or peel, will not stretch or shrink, resists mold and mildew yet stays flexible to - 40 degrees.

We offer 16 classic colors to choose from. See the colors under the skirting color tab.

We offer a 5 year warranty on fabric, stitching and workmanship.

We have created the best ground anchor system available.

All 5th wheel skirting's include an enclosure at the front that has a zippered door so you can use it for storage of your belongings.

We build your skirting to go around all of your outside storage doors so you still have access to they with the skirting on.

The skirting is made of several light weight manageable pieces that are fast and easy to take down and put on.

Zippered access for your water, sewer and exhaust so they can be ran out through the skirting without large gaps that wind can come through.

We supply 10 inches nail spikes for you to anchor your skirting to the ground.

Each skirting will have 10 to 22 inches of adjustment for all the different terrain you may end up on. Also, your skirting is made so you can anchor it with nail spikes or weigh it with sandbags if you might be on concrete.

We use turn buckles so your skirting will stay fastened until you take it off.

In the areas that we must use snaps we use are hard action snaps that will hold fast.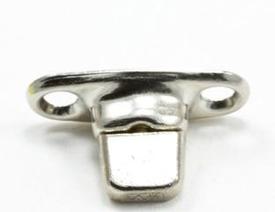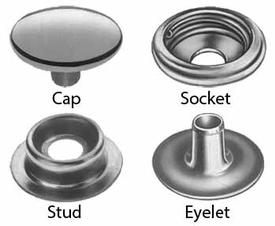 This is the hardware that we install on your RV.
Adjustable Ground Anchor System
Our adjustable ground anchor system allows for the skirting to fit from one place to the next as you move. It allows for one foot of adjustment for uneven lots and fits tight to the ground. Ten inch nail spikes hold the skirting tight so it will not be moved by wind. We also offer an option for lots that nails spikes can not be used such as concrete.
Toy Haulers Are No Problem
Have a toy hauler? We skirt those too! They are really not much different from any other skirting.